Free WordPress Plugin for
Questions & Answers
Open source, customizable, extensible and widely used.
Free Download
Version: 2.4.7 | Released: 5 days ago

What is AnsPress?
AnsPress is an open source plugin for adding a question and answer section to your WordPress site. It can be used to create a q&a network similar to stackoverflow and quora, or just as a page in existing site.
Customizable AnsPress is very flexible and can be easily overridden. Every part of the templates can be customized.
Extensible Easily extend AnsPress by adding custom functionality. A large collection of actions and filters are provided. Create your own extension if needed.
Spam prevention Three ways to prevent spam from your AnsPress: Akismet API, reCaptcha or manual moderation.
WPMU Supported AnsPress is properly tested with WordPress networks (WPMU) and can be used to create multiple Q&A sites.
User profile Built-in user profile system to show user stats and allow user to edit profile informations. Also supports adding custom fields.
SEO Friendly Question and answers are SEO optimized. We use schema.org guidelines for questions and answers.
Question & Answer
Questions and answers are WordPress Custom Post Types. Answer custom post type depends on question and will inherit its title. The concept &amp workflow of are inspired from many existing Q&A networks.
https://anspress.io/questions/question/how-to-ask-question/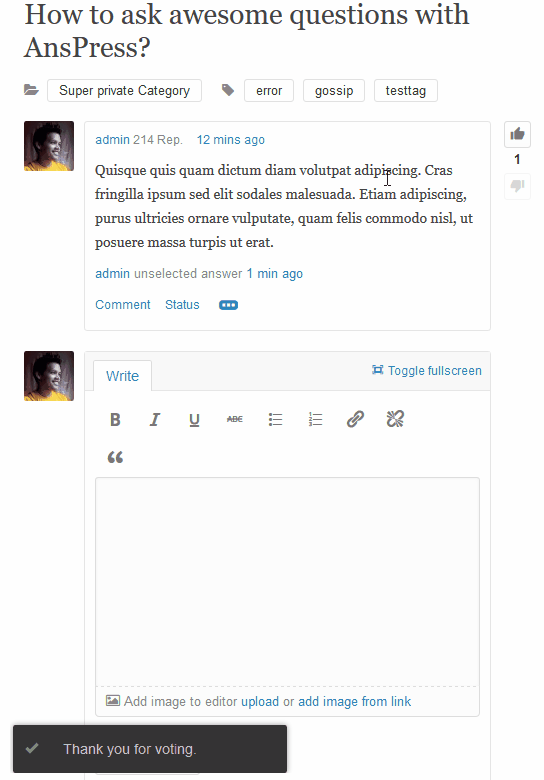 Voting Let users vote on questions to express their thought for its relevance.
Featured Questions Make questions featured so they stick to the top of list.
Best Answer Allow asker to select an answer as "best answer".
Comments Let users discuss questions and answers by commenting on them. Users can comment on both questions and answers.
Subscribers Users can follow questions for receiving question updates.
Activity and History Shows recent activity. All question and answer is shown to subscribers.
Flag (report) Allow the community to report inappropriate or spam posts.
Private Question & Answer Create private questions which will be hidden from public and only selected users can view its content.
Upload images Allow image attachments in questions and answers.
---
Notifications
AnsPress notifications will notify users for various activity happening within AnsPress. Notification system is not just limited to AnsPress, it can be easily extended to show new types of activities.
Mention Users get notified when otheres mention them in posts or comments.
Comment Users get notified when there is a comment on their posts.
Reputation Users get notified when they gain a reputation.
Vote Up Users get notified when their post gets an up vote.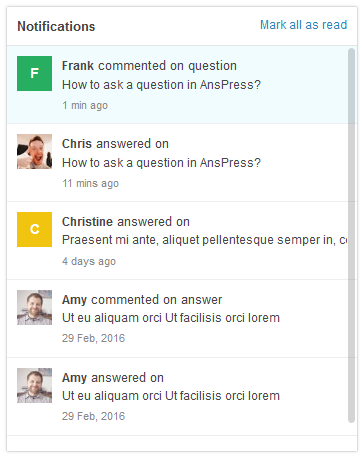 New answer Notify users when their question get an answer.
Best Answer Users get notified when their answer is selected as the best.
Follower Notify users if anybody starts following them.
Post edits Users get notified when their post gets edited (optional).
---
User Profiles
AnsPress has a built-in user profile system. This allow users to edit their profile and also view their stats.
Creative and Informative Modern design with cover and user avatar. Shows all stats of users along with activities. Easily customizable.
Edit profile Allow users to edit their own profile. Custom fields can be added using hooks.
Followers Users can follow other users to get their activity updates.
Feed Page Let users see all updates in one place. Feed shows activities from user subscriptions for questions, taxonomy, other users, etc..
Notification Page Shows all notifications, mentions and other activities of user.
Hide Profile AnsPress allows an option for user to hide themselves from the public.
3rd Party Profile Its not required to user AnsPress profile system. Admin can use other 3rd Party profile plugins.
https://anspress.io/user/rahul-aryan/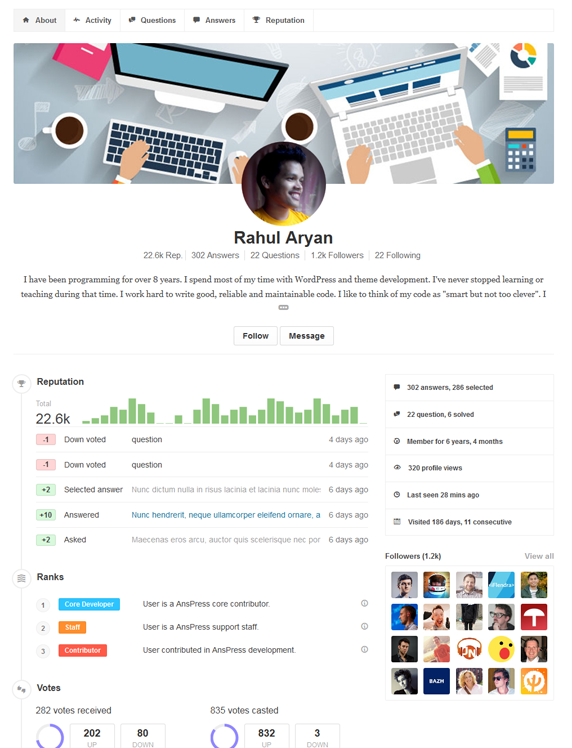 Reputation
Award reputation to users for their activities.
Customizable Points Reputation points can be customized from wp-admin.
Add Custom Points Custom reputation points can be added via hooks or wp-admin.
https://anspress.io/user/rahul-aryan/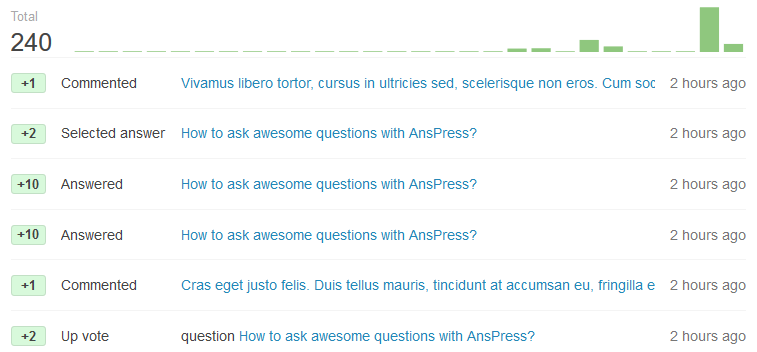 https://anspress.io/wp-admin/anspress-options/

User Roles & Permissions
AnsPress roles and capabilities gives you full control over user access.
Customizable caps Customize capabilities of AnsPress for any roles.
Add Custom Roles Add new roles with capabilities right from AnsPress.
Download your version of AnsPress now.
It's open source, customizable and highly extensible.
Download AnsPress
More Features..
There several more features in AnsPress, see below for a few more.
View Count Count how many times a question was viewed.
Email Notifications Send email notification to users when they have an update (free extension).
Bad Word Blocker Block bad words in posts or comments with the option to delete or hold for moderation.
Translation Support Translate AnsPress to your desired language by using .POT and .PO files.
Categories Add taxonomy categories for questions (free extension).
Anonymous Allow non-logged in users to ask questions or answer questions.
Stop Word Blocker Strip stop words from URL slugs when enabled (good for SEO).
Post and Comment Moderation Control moderation. Always hold questions and answers for moderation if you'd like.
Tags Add taxonomy tags to questions (free extension).
Comment Flag Allow community users to flag inappropriate comments.
Close Question Close questions automatically if answer is selected.
Akismet Check Check question and answers using akismet API (beta).